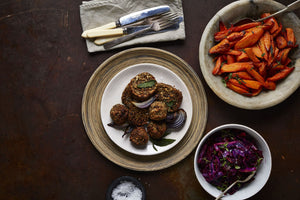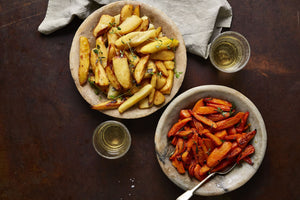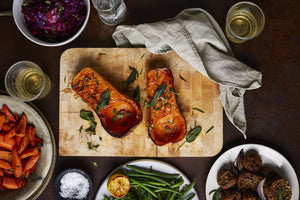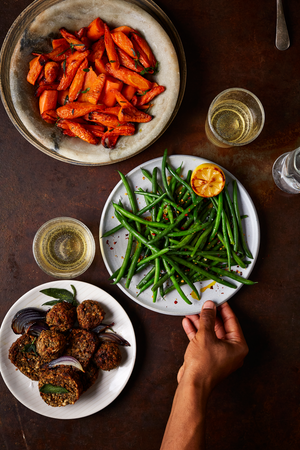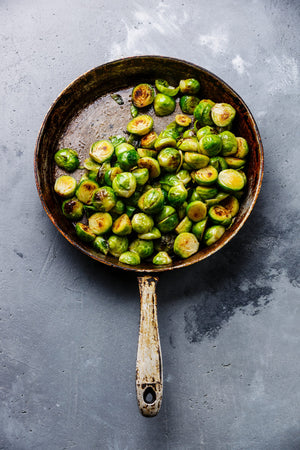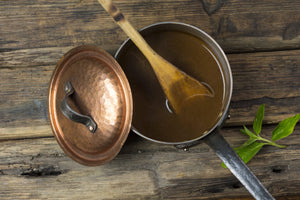 All sides serve 2 persons
Carrots & Parsnips
British carrots and parsnips, peeled, blanched and season'd with pepper and lemon-and-thyme salt. Tossed in olive oil, garlic and thyme, we add a drizzle of red wine vinegar and then they're all yours.
Stuffing 
Sage and Onion stuffing pre rolled into balls ready to put in the oven. Perfect addition to any roast!
Allergens: Celery, Sulphites, Gluten
Braised red cabbage

Shredded red cabbage with a balsamic vinegar and brown sugar reduction.
Allergens:  Sulphites
Green Beans
Blanched Green beans tossed in olive oil, Himalyan salt and a light dusting of chilli flakes
Brussel Sprouts
Chopped Brussel Sprouts mixed with chestnuts. Season'd with our signature herb and spice mix. Ready for oven or pan finish!
Allergens: Nuts
Butternut Squash
We take an organic butternut squash, peel it and halve it, and from there, it's season'd in our signature spice mix. Squash can be a slow cook, so to make things easier we par-bake it to save you a little time at home.
Gravy Meat
Gravy stock. Save the juices from your meat and add it to the stock with water for the ultimate gravy.
Allergens: Sulphites, Gluten
Gravy Vegetarian

Vegetable Gravy Stock ready to be drizzled over any roast
Allergens: Sulphites, Gluten
Gravy Vegan

Vegan gravy stock ready to heat and serve
Allergens: Sulphites, Gluten